Senator Wilton Simpson
SB 76: Use of Wireless Communications Devices While Driving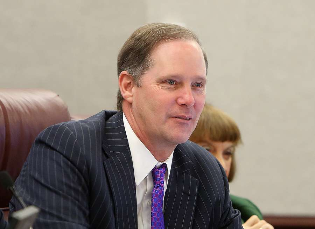 Summary of Senate Bill 107
Use of Wireless Communications Devices While Driving; Creating the "Florida Ban on Wireless Communications Devices While Driving Law"; prohibiting a person from operating a motor vehicle while listening or talking on a wireless communications device for the purpose of voice interpersonal communication; deleting a provision requiring that enforcement of this section be accomplished only as a secondary action, etc.
---
Senate Bill 76 Editorial
Sen. Wilton Simpson, a Republican senator who represents the 10th Congressional District of Florida (which includes Citrus, Hernando and part of Pasco County), filed a bill on Tuesday, Nov. 20, that, should it become law, will make texting and driving a primary offense.
Currently, use of a handheld device while driving is considered a secondary offense in state law, meaning that drivers can be cited for doing so, but only if they are being stopped for other traffic infractions, such as speeding. Sen. Simpson's Senate Bill 76, however, would prohibit using a wireless device while driving.
"It is the intent of the Legislature to prevent crashes related to the act of using a wireless communications device while driving a motor vehicle," reads SB 76, adding that it would also authorize law enforcement officers to stop motor vehicles and issue citations as a secondary offense to persons who are using a wireless communications device while driving.
In the original text of the bill, the focus of the language was more towards texting while driving, but edits to the bill show that it has now been expanded to include any use of a wireless device while driving. The bill will only allow a special exception to drivers in the event that they are using their device to: report an emergency or suspicious activity; receive messages pertaining to the operation of their vehicle, a radio broadcast or a public safety/emergency alert; or using the device for navigation.
Another exception will be given to those using their device in order to perform their official duties as an operator of an authorized emergency vehicle, in the case of a law enforcement officer, fire service member or an emergency medical services professional.
"A person may not operate a motor vehicle while manually typing or entering multiple letters, numbers, symbols or other characters into a wireless communications device or while sending or reading data or listening or talking on such a device," reads the bill, adding that this applies to text, making calls, emailing or instant messaging.
Drivers could continue to receive calls and use devices through hands-free options, such as through their vehicle's Bluetooth.
This new proposal has been filed for consideration by Florida's Senate during the 2019 session, which will begin on March 5, 2019.
---
SB 76 Bill Text
Florida Ban On Wireless Communications While Driving Law
---